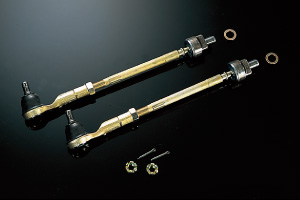 More Rigidity & Deeper Steering Angle,
at Affordable Price.

Concept
Superior Durability & High Rigidity

Rod and thread are wider than OE tie rod for Silvia (180SX) lines, known for low intensity, for high rigidity.

Wider Steering Angle

Steering angle can be increased by inserting spacer between Strengthened Tie Rod and rack; 90-degree increase of steering rotation angle or 17% compared to OE.

Perfect Not Only For Regular Use But For Drifting!!

High rigidity prevents bentness and/or breakage, giving some peace of mind even when driving hard. Also, increased steering angle improves everyday convenience, such as cutting down the number of turns required for parking, U-turn, etc.
This is the must-have item for drift drivers, not only giving deeper drifting angle but also better chance of avoiding spins.

Easy-to-Afford Pricing

We utilize the technical know-how as a suspension specialist to bring this high-quality Strengthened Tie Rod at a very reasonable price under thorough cost management, so that more and more people can take advantage of this product.

Specification / OE Comparison Chart
Model / Chassis Code
Rod Diameter
(OE Rod Diameter)
Buckling Strength
Silvia,180SX(S13)
O.D.14-M14
(O.D.11.1-M12)
approx. 31% increase
Silvia(S14)
O.D.14-M14
(O.D11.1-M14)
approx. 10% increase
Silvia(S15)
O.D.14-M14
(O.D12.9-M12)
approx. 55% increase
CAUTION!
(1)TEIN Tie Rod and Tie Rod End can NOT be used in combination with OE tie rod and rod end.
(2)By using the spacer A, included in the kit, the steering wheel cut off angle will be increased. However it might cause tires and fenders/wings to hit each other or the other parts of the vehicle, depending on the size of the tires and/or wheel. When this happens, simply removing the spacers could solve the problem, but there will not be any increase in the angle. Please use the spacers at your own risk.

Model
Tie Rod
Part #
MSRP excl Tax
SILVIA,180SX
(S13)
TRS01-N2010
JPY 10,000
SILVIA
(S14)
TRS01-N2010
JPY 10,000
SILVIA
(S15)
TRS01-N2010
JPY 10,000
* TEIN Tie Rod and Tie Rod End can NOT be used in combination with OE tie rod and rod end.


*Discontinued and only available while supplies last.

Drop us a line, ask us any questions!
Click Here