1.Well-Thought-Out Settings, Tested and Proven at Circuit
| | | |
| --- | --- | --- |
| RACING FLEX is carefully and thoroughly tested at circuit to determine the settings to exploit the car's full potential in "N-ONE OWNER'S CUP". Front camber angle, spring rate and damping force are all optimized for circuit racing, to add enough mechanical grips even when high grip tires are not used and to add more fun to circuit racing. | | |
| | | |

2.Full-Length System for Ride Height Adjustment w/ Minimal Change in Ride!
Full-length ride height adjustment system, used for RACING FLEX, enables adjustment of ride height by adjusting the case length, without changing the damper stroke length and/or spring pre-load. This has the advantage that the change in ride quality is kept minimal when the height is adjusted. This system not only makes it possible to maintain good balance between the low-down appearance and ride comfort, but also provides more setting choices for sport driving as well.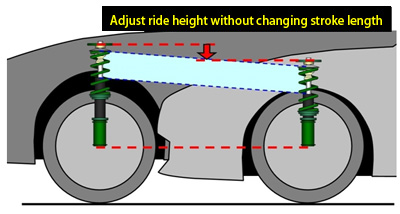 3.Damping Force Adjustable to Change Ride to Desired Settings!
RACING FLEX has ever-popular 16-level damping force adjustment (comp./rebound together) feature with the use of needle valve. By turning the adjustment knob, damping force (stiffness) is adjusted linearly step by step, to change the ride and handling of the car to suit driver's needs/preferences. Use of well-reputed "ADVANCE Needle" at the needle valve for oil flow control widens damping force adjustable range drastically. Whether it's for the handling characteristics of sport driving or for the ride quality according to numbers of passengers, finding the most desirable setting is easier than ever.

4.Compatible with EDFC Series to enable In-Car Damping Force Adjustment!
With EDFC (Electronic Damping Force Controller) series installed, damping force can be controlled from the cockpit with ease. Stepping motors attached in place of adjustment knobs control the damping force quickly and accurately.
Use of EDFC turns 16-level adjustment into finer 32-level or 64-level adjustment mode (64-level only available with EDFC ACTIVE / EDFC ACTIVE PRO), to provide the optimum performance by fully utilizing the damping force adjustable range drastically widened by the use of "ADVANCE Needle".

EDFC ACTIVE PRO

EDFC ACTIVE
With EDFC ACTIVE / EDFC ACTIVE PRO, damping force can be controlled automatically according to changes in G-force and/or vehicle speed, to offer very smooth and slick ride like never before.
!CAUTION! Please check and follow the race regulations for installation and/or use of EDFC series products.
Use of EDFC series is prohibited in "N-ONE OWNER'S CUP".

5. Highly Durable & Reliable!
| | | |
| --- | --- | --- |
| After many years of research and study, TEIN has developed optimally-shaped dust boot made of most suitable material. Elastic & highly-durable dust boot effectively prevents damages to the piston rod and foreign substances from getting inside the shock absorber. | | Dust Boot |
Improved oil seal and ring nut with dust-discharge groove on side are used. Such new and advanced parts improve the durability, preventing the contamination by foreign matters which can lead to the reduction of product life.

Oil Seal

Ring Nut

Final assembly of shock absorbers is done in the clean room, which is almost equivalent to operating room. Room pressure is kept under control to shut out dust & dirt and all workers entering the room must take air shower, to make sure all the assembly work is done in completely clean air, in order to maintain higher level of accuracy and reliability.


Clean Room

6.Thoroughgoing Rust-Proofing!
| | | |
| --- | --- | --- |
| Lower brackets are coated with rich TEIN green powder paint. This powder paint has high coating film strength, is highly durable yet is low-pollution due to non-use of harmful solvent. After the shot blasting pre-treatment, the patented "2-layer/1-bake" treatment using anti-rust powder paint is applied for superior durability and high corrosion resistance. (Patent No. 4347712) | | Powder Paint |
| | | |
| --- | --- | --- |
| | | |
| On shell case, TEIN's self-developed one-of-a-kind "ZTP Coating" is applied, for tougher protection against chipping, often caused by bounced pebbles, and rust. With zero claim rate, against adhesion, out of 500,000dampers sold, we are confident that people living in snowfall area or near seashores would even be very satisfied. | | |

7.Highly-Rigid Bracket & Shell Case!
For strut suspensions, sufficiently-thick ribbed plate is used for knuckle bracket to maintain high rigidity. Flange shape edge of the bracket provides larger contact area with the bracket lock, which is fastened with the conical washer inserted in between, to effectively prevent loosening of the bracket lock most commonly occurs on front strut suspensions.
Brackets for brake hoses and ABS sensor harnesses etc are exclusively designed for each vehicle model for hassle-free installation.

Highly-Rigid Knuckle Bracket

Flange Shape Edge
+
Conical Spring Washer
| | |
| --- | --- |
| Shell case is made of high-strength steel STKM13C and solidly-constructed for firm handling and stable ride. | |

8.Smooth Ride Height Adjustment & One-of-A-Kind Adjusting Wrench!
RACING FLEX has adopted the new wrought aluminum spring seats and low-friction hard-resin thrust washers. These effectively reduces the friction with springs, caused during ride height adjustment, and makes it easier to adjust the ride height with pre-load on the springs.
Shell cases are treated with "ZTP Coating", a superlow-friction fluorine resin coating, which is tightly baked onto the surface in-house. This special coating provides superior protection against rust and high lubricity, for keeping a smooth adjustment for a long period.

RACING FLEX kit includes one-of-a-kind user-friendly ride height adjusting wrench. It has a 12.7mm (1/2in) sq. hole for attaching spinner handle and/or torque wrench for tightening at high torque.


Spring Seat & Low-Friction Thrust Washer

Ride Height Adjusting Wrench

9.No-Sag Springs!
Included springs are made of high-tensile steel SAE9254 (tensile strength 200kgf/mm

2

or over) and cold formed for excellent resistance to sagging and for superior quality stability.
Surface is powder coated for superb protection against chipping & peeling, for high durability and for superior anti-corrosion performance.
High-quality spring can be used under various conditions without any worry.

10.High-Spec Damper Oil
| | | |
| --- | --- | --- |
| Specially-formulated high-spec oil exhibits stable viscosity characteristics at any temperature; from low to high, to allow shock absorbers to stroke smoothly and to generate damping force stably under various conditions. The oil has superior anti-foaming characteristics hence the bubble cavitation and/or thermal degradation hardly occurs, making it even suitable for tough sport driving. The oil also does not deteriorate much with age, making it possible to maintain and deliver superior performance for the long term. | | |

11.Available for Overhaul & Revalving!
TEIN offers excellent after-sales service. Like most TEIN shock absorbers, RACING FLEX can be overhauled to restore its original performance. As TEIN shock absorbers can be fully disassembled, revalving service is also available to change damping force settings to meet customer's preference.