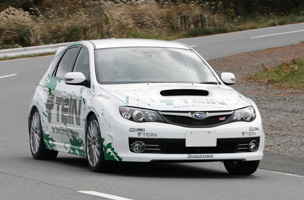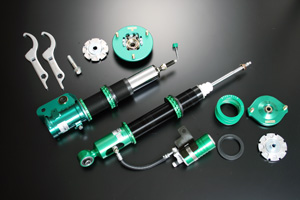 Our Flagship Circuit Model Shock Absorber
Allows Extreme Fine-Tuning
Main Features
Geared Toward Time Attack for Sports Driving Fanatics
Mono-Tube Construction
Full-Length Ride Height Adjustment
16-Level Damping Force Adjustment (Compression and Rebound Individually)
Compatible with EDFC Series for Adjustment from Cockpit
Upgrade to 3-Way Adjustment Available at Overhaul >> Click for Details
Feature Descriptions
A. Pillow Ball Upper Mount

Eliminating elastic deformation, pillow ball upper mounts are used for a distinct driving feel and handling that cannot be matched with original rubber upper mounts. Strut-type SUPER RACING offers camber adjustment at the upper mount, with in the front caster adjustability as well. (Patent no. 4653514)
B. Mono-Tube

The product has a mono-tube structure for detailed handling and communicative steering. Generating a linear damping force that responds to the slightest road changes, the mono-tube construction keeps the damping force performance highly stable, despite heat from multiple circuit runs.
C. Full-Length Ride Height Adjustment

Ride height can be set separately from preload, thanks to a full-length adjustment system with a moving lower bracket.
D. Individual 16-Level Damping Force Adjustment for Compression and Rebound

Offering a highly detailed setup, damping force is adjustable at both the base valve and the piston rod. This allows for 16 levels x 16 levels = 256 damping force configurations. Because of the specially shaped needle valve, damping force change is linear at all 16 levels.
E. Robust Steel Shell Case (Strut Type)

Strut-type shock absorbers sport a shell case of highly rigid steel, treated with TEIN's unique ZT Coating for superior corrosion resistance and durability. Also, their lower brackets have been treated with our 2-Layer, 1-Bake powder coating.
F. Inverted Damper (Strut Type)

An inverted architecture provides strut-type shock absorbers with the sideways robustness that they need. Like upright SUPER RACING, they feature linear damping force thanks to their mono-tube framework.
G. Light Weight (Wishbone/Multi-Link)

SUPER RACING for wishbone- and multi-link-type suspensions has an aluminum shell case for superior lightness and heat dissipation, treated with black alumite for durability.
H. Upper Spring Seat (Wishbone/Multi-Link)

An upper spring seat in wishbone- and/or multi-link-type dampers makes the spring and shock absorber move along the same axis. This ensures the springs' rate, keeping them from bending, and enhances smoothness of shock absorber strokes.
I. Swiveling External Reservoir (Wishbone/Multi-Link)

Shock absorbers for wishbone- and multi-link-type suspensions have an external tank rotating around the foot of the shell case in the direction of the thrust, for finer full-length adjustment.
J. Lower Bracket with Camber Angle Adjustability (Strut Type)

Strut-type SUPER RACING allows modifying camber angle in 4 ways at the lower bracket, by joining two asymmetrical collars with the knuckle bolt holes. Combined with adjustment at the upper mount, it is possible to adjust the entire geometry.
K. Main Spring Sold Separately

The main spring is sold separately, to facilitate varying setup preferences. We recommend TEIN's Racing Spring. Helper springs are included depending on the vehicle's requirements.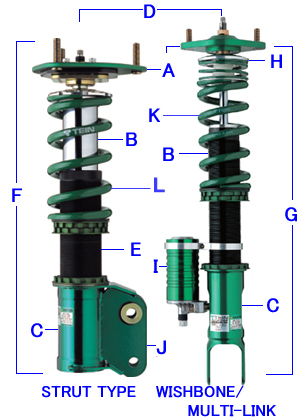 Discontinued models can be ordered as a CUSTOM MADE DAMPER.
CUSTOM MADE DAMPER
Discontinued models can be ordered as a CUSTOM MADE DAMPER.
Re-issue of a previously available damping force adjustable shock absorber
Specifications incl. ride height drop, spring rate, damping force, etc. as in previously available product (some vehicles excepted).*
Orders are accepted per set for 1 vehicle.
Items are ready approximately 1.5 months after receiving the order.
Available through TEIN distributors and dealers worldwide.
* Do you want to customize specifications? Please check out SPECIALIZED DAMPER.