EDFC5 utilizes jerk-reactive adjustment feature, which is developed as a part of industry-academia collaboration with Prof. Dai Watanabe of Shibaura Institute of Technology, successfully combining both sharp handling and comfortable ride, to automatically provide most desirable driving behavior for all drivers. AI (learning function) helps to realize suitable driving feel, without sense of discomfort, for all sorts of situations. In addition, EDFC5 employs new approach to control motors to reduce operating sound, to maintain quietness like cars' original parts/components. Controller screen uses VA panel, as opposed to HTN panel that previous items use, for more beautiful and easy-to-read display.
Main Operation Modes
Specifications
Newly-Added Features for EDFC5
Jerk-Reactive Adjustment
AI (Learning Function)
Quieter Motor Operating Sound
LCD Screen with Better Visibility
Finer 96-Level Adjustment Mode (Switchable; 16, 32, 64 or 96)
Compatible Shock Absorbers
*Can only be used with TEIN shock absorbers

Through industry-academia collaboration with Prof. Watanabe of S.I.T., automatic control based on jerk (or jolt, surge, lurch) is made available.
By calculating jerk rate from changes in G-force detected, the system predicts how the vehicle will soon move and hence the adjustment can be made automatically at the very moment when the cornering, acceleration or deceleration starts. This makes it possible to strike a good balance between sharp handling and comfortable ride. Patent Pending No.2022-188410
For example, the damping force is adjusted to emphasize on ride comfort when running straight forward but that would make the vehicle slow to react when the steering is turned. With jerk-reactive adjustment, the damping force is adjusted immediately after starting to steer, to make it most suitable for the upcoming curve and to provide sharp handling. After that, adjusting the damping force back to comfort-oriented setting can provide smoother ride and handling, absorbing bumpiness while cornering.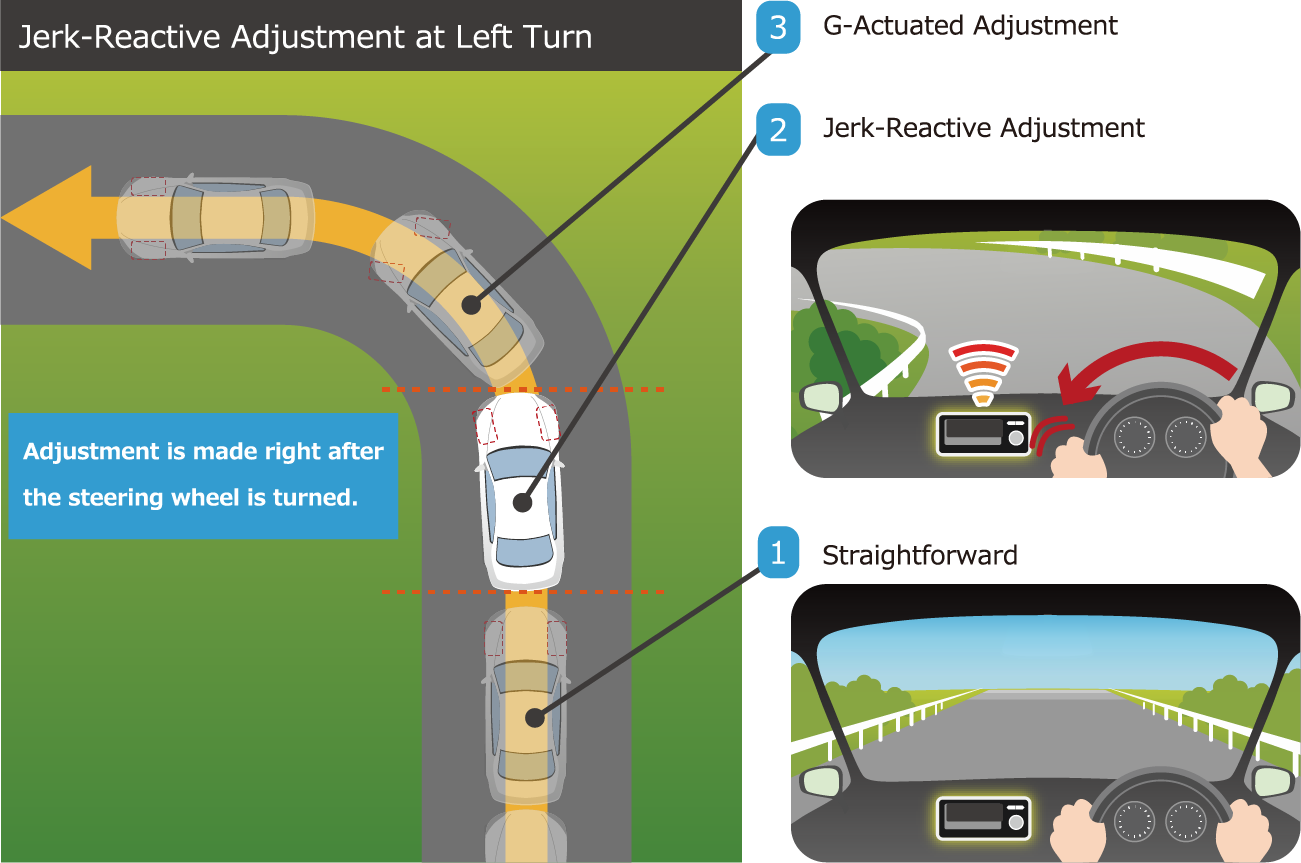 Damping force is adjusted automatically, based on lateral (cornering) jerk value. The system can be programmed as desired to suppress overshooting while in transition for early convergence, to improve cornering performance and to provide comfortable ride.
What is "jerk" ?

One of the most familiar examples would be an (old) elevator.
Imagine when you're going down to lower floors.
When an elevator starts to move, you get a little feeling of floating. When it stops, you feel bit heavier, pressed against the floor.
Those are the effects of higher vertical jerk, caused by quick acceleration/stop.

Damping force is adjusted automatically, based on accel/deceleration and lateral (cornering) G-force.
Accel/Deceleration (Longitudinal) G-Actuated Adjustment
On the street you can unite ride comfort with handling stability, setting a soft damping force at constant speed to smoothly absorb the road's unevenness, and a stiff one at acceleration/deceleration to constrain vehicle movement.

Furthermore on circuits, setups allow for increased stability at braking, as well as under- and oversteer control by varying front-rear damping force balance depending on the accel/deceleration amount.
Cornering (Lateral) G-Actuated Adjustment
Automatic damping force adjustment, based on lateral G-force such as during cornering.
Want to combine a comfortable ride with smooth cornering? Just set damping force to be soft while driving straight to compensate surface flaws, and stiff only at turns, suppressing the vehicle's roll velocity.
You can pre-set the damping force to the amounts of the lateral G-forces, and also customize the balance between front and rear damping.


Automatic damping force adjustment, based on the vehicle's speed.
For example on urban streets, you can automatically have soft damping force at low speed for a cushioned ride, and stiff damping force for stable handling while driving fast.

Likewise on circuits, you can enjoy the right handling quality at any speed, for instance automatically adding a pinch of oversteer at sharp turns, and slight understeer at moderate turns.

The system learns driver's behavior and controls how jerk-reactive adjustment is made. Vehicle moves differently under different conditions; from highways, city streets, winding roads to racing tracks. AI works to determine and apply the most suitable adjustment patterns, eliminating sense of discomfort, for various driving situations.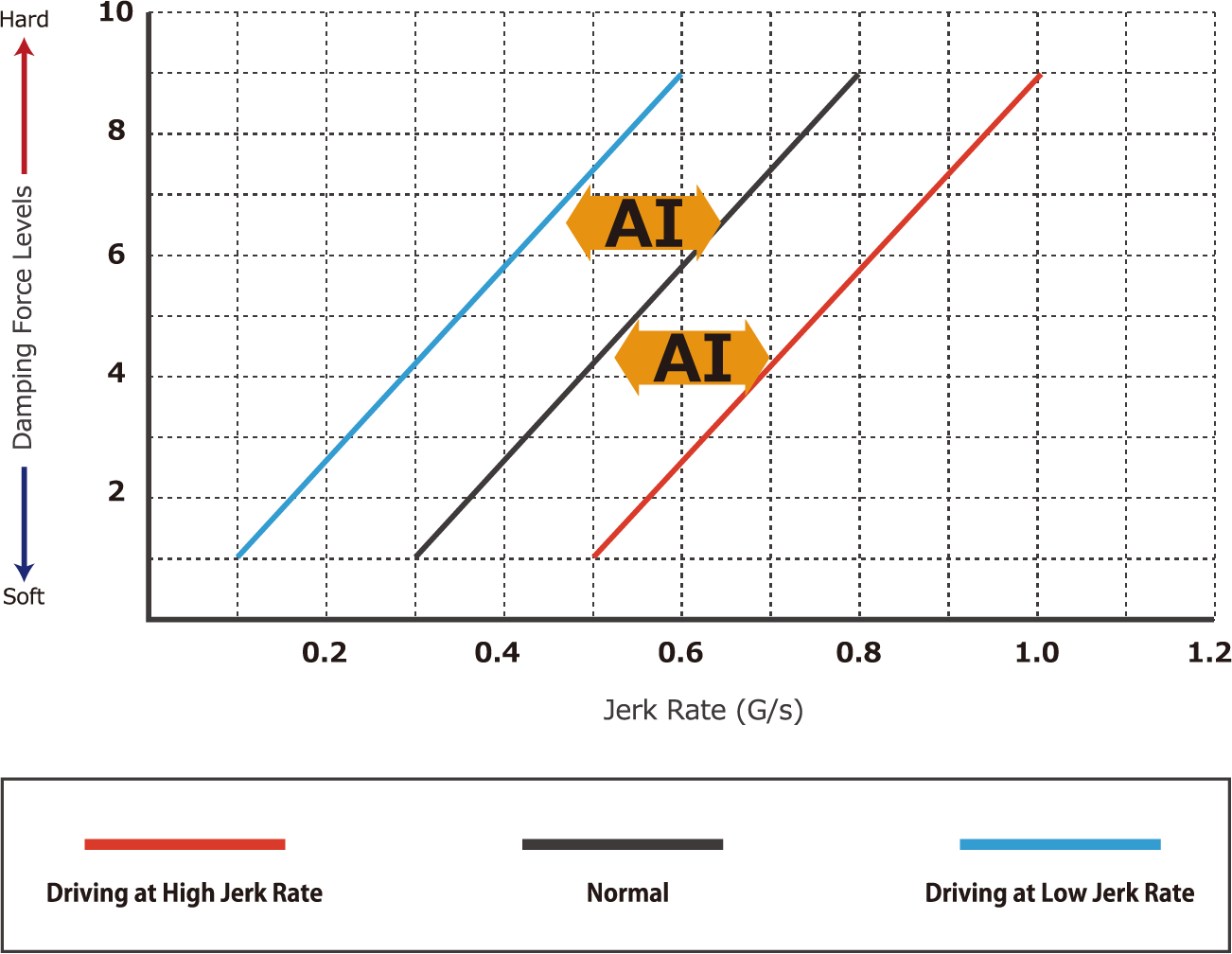 With just one dial, front and rear damping force levels can be adjusted as desired.
The preset memory function stores up to 10 setups. You can instantly switch to your preferred damping force levels for any situation.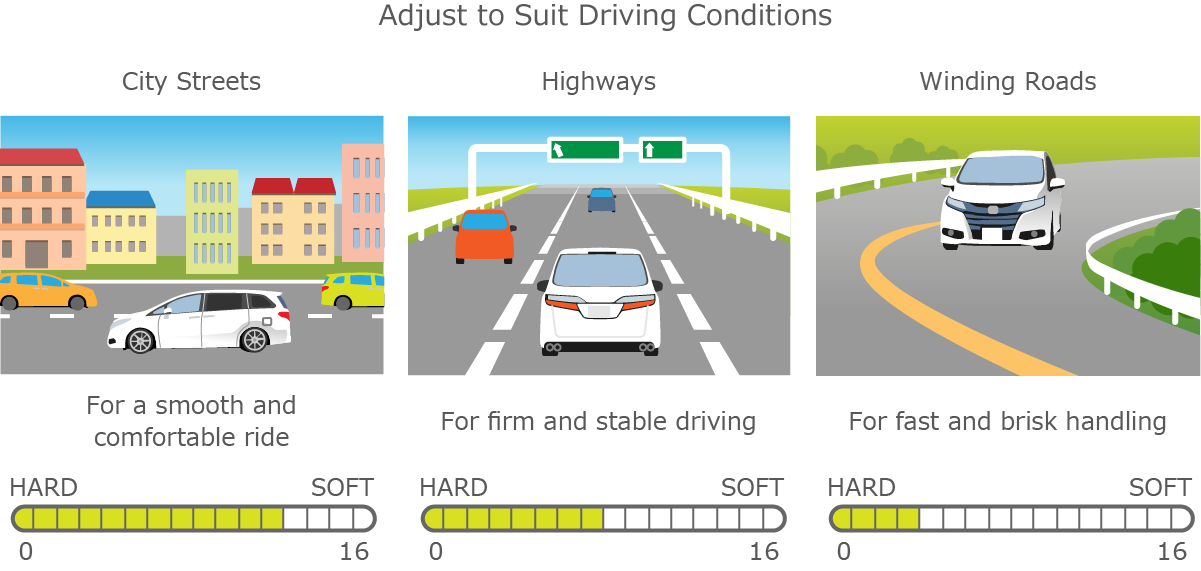 3 different adjustment modes; jerk-reactive (longitudinal/lateral), G-actuated (longitudinal/lateral) and speed-sensitive adjustments, can be combined for more comprehensive control, to provide superior ride quality.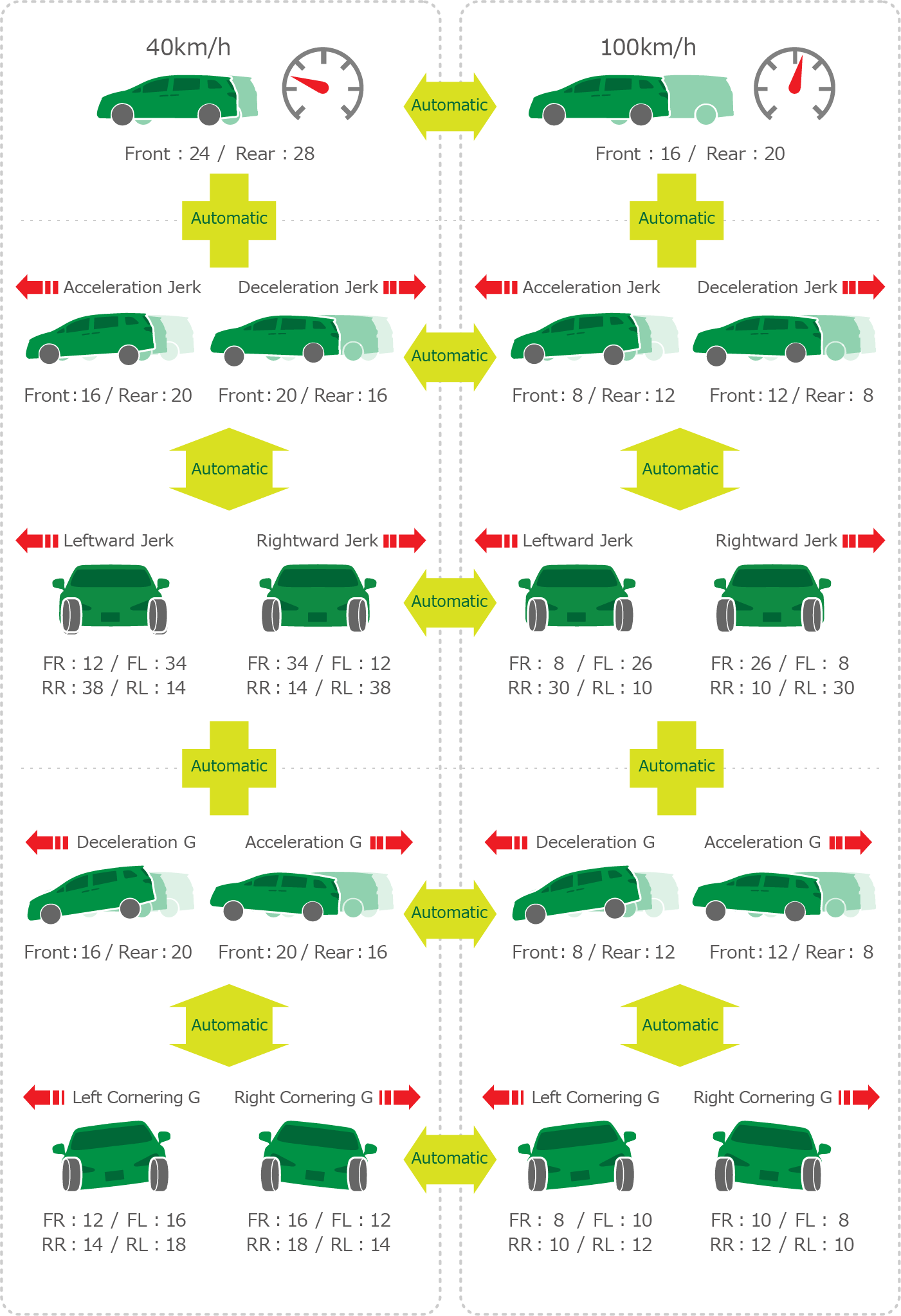 EDFC5 allows to reduce motor operating sound to about 1/3 of the previous EDFC models, to maintain quietness level to that of OE parts/components. Driver unit employs new approach to reduce sound, so that existing motors can be used as-is.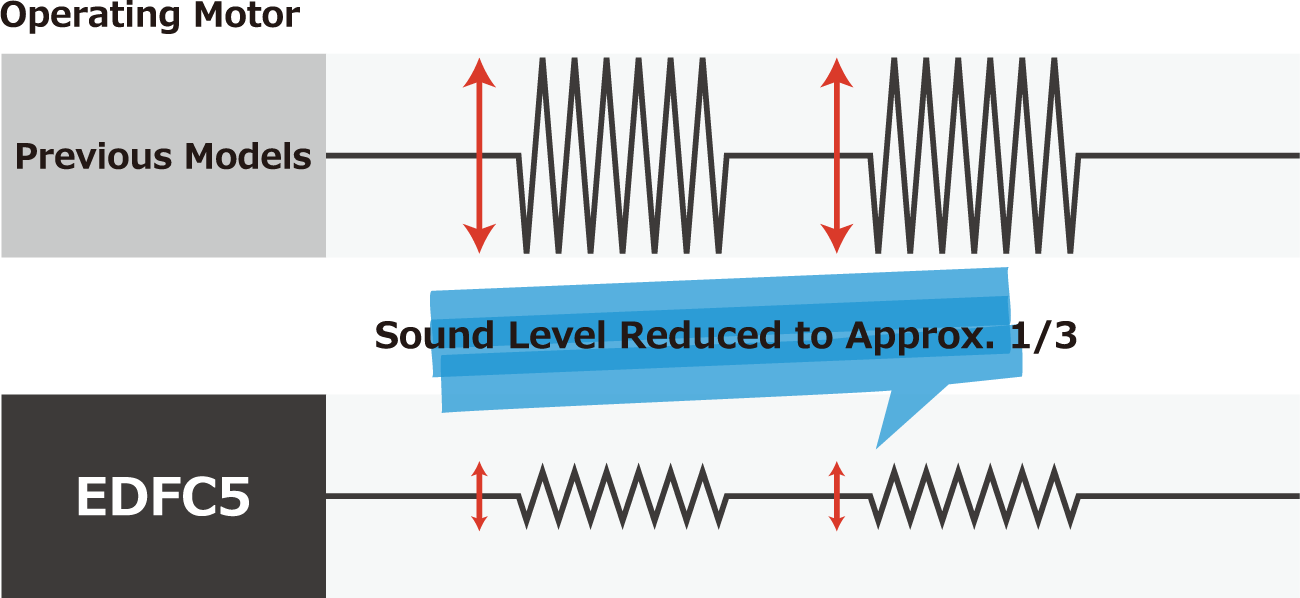 EDFC5 features wireless control, for easy installation and wiring.
The controller wirelessly communicates with the motor driver units that command EDFC motors. No more need to pierce cables through trunk or engine firewalls and snaking them about the vehicle.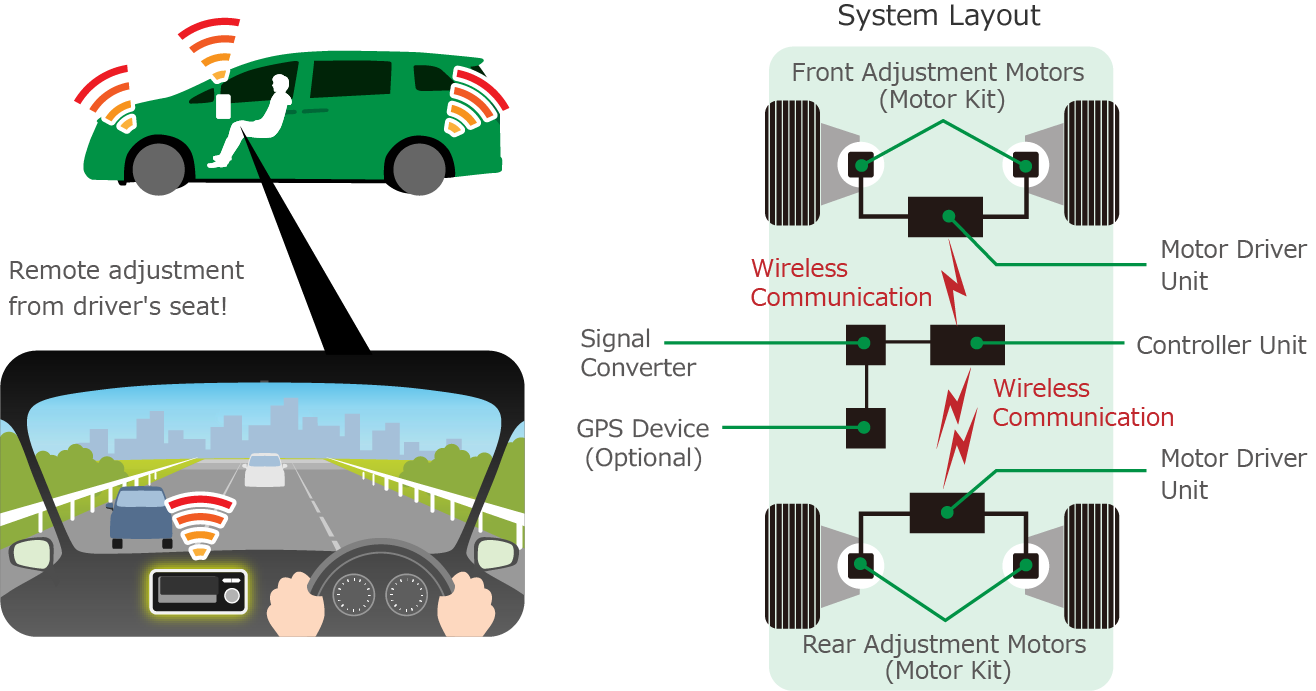 The latest wireless technology enables instant and reliable adjustment motor response upon operating the controller unit. Of course, the network signal is reliable. Also interference is no worry, since each motor driver unit has one in 16.77 million unique IDs.
Motor driver units are made extremely dustproof and waterproof, so that they can be installed outside the vehicle's passenger compartment, such as in the engine bay.

Damping force adjustment levels can be set in 4 different types; 16-level, 32-level, 64-level or 96-level. To most TEIN damping force adjustable dampers which come with 16-level adjustment, use of EDFC5 adds 32-level, 64-level and 96-level adjustment capabilities within the same range for finer adjustments especially in automatic adjustment modes.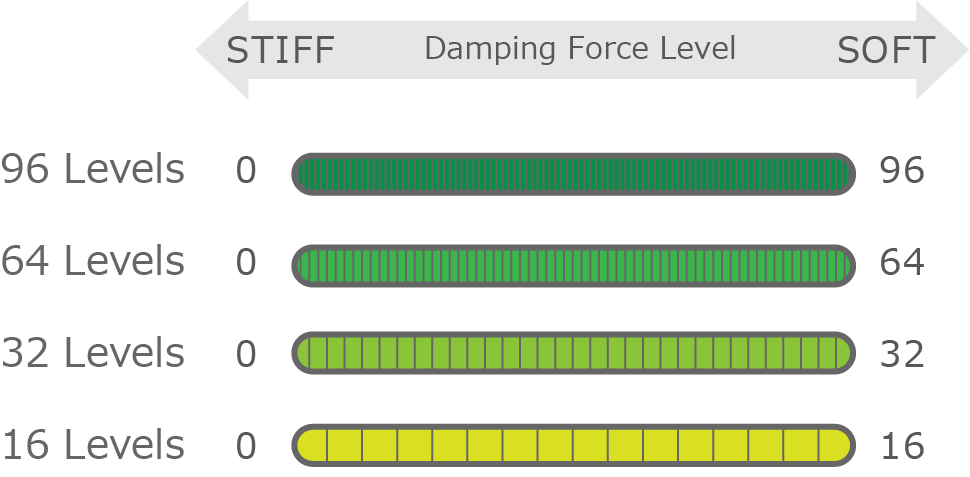 Controller screen uses VA panel, as opposed to HTN panel that previous items use, for more beautiful and easy-to-read display.


You can adjust the color of the display, button and dial illumination. In addition to 4 default colors (white, green, amber and blue), the EDFC5 offers a spectrum of 262,000 colors to customize your controller unit.

Controller Unit
A variety of features, such as a G-sensor and wireless communication, are combined into one compact unit. The wide display (22 x 60 mm) offers good visibility.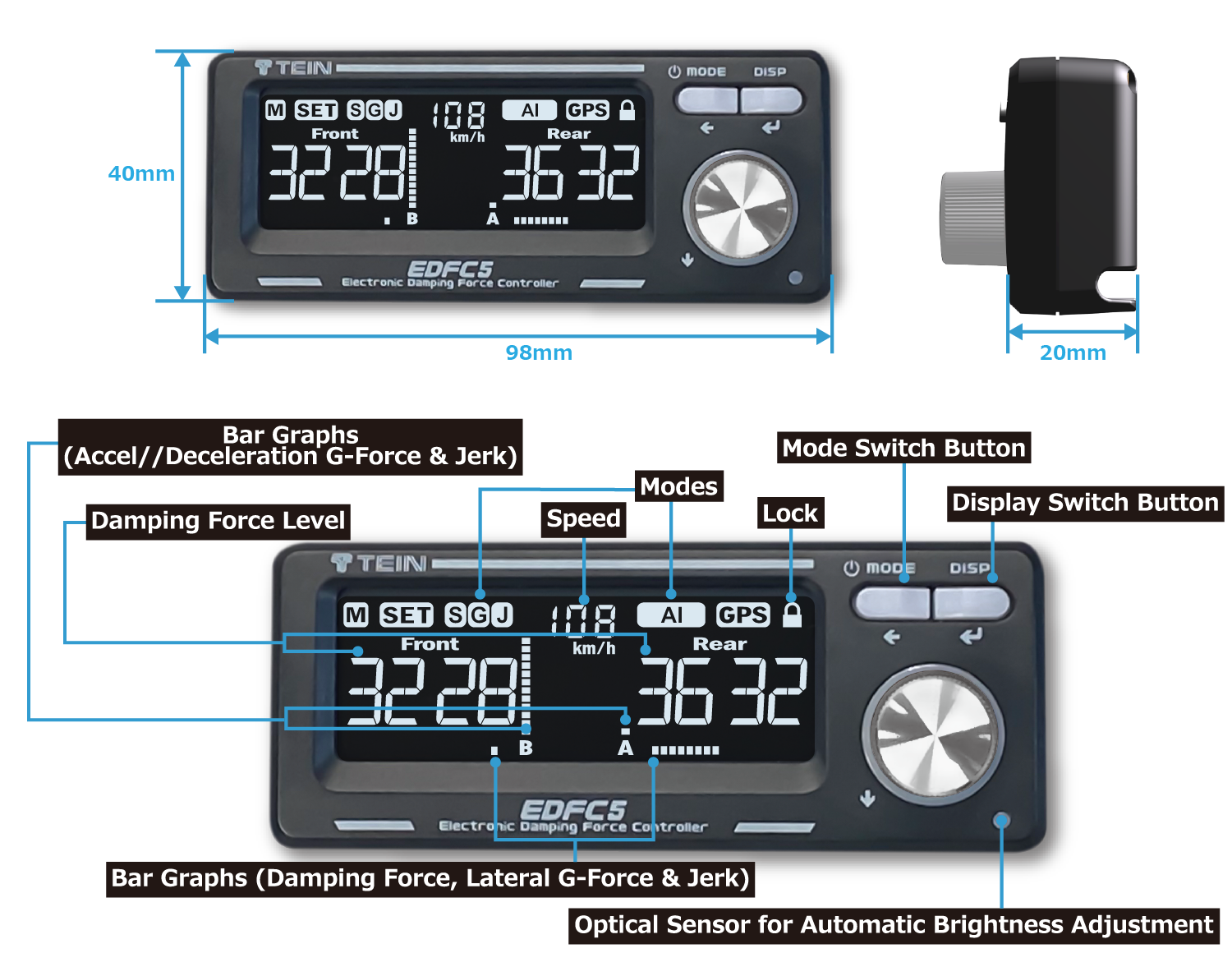 A wiring duct at the back lets you neatly route the cables, offering more flexibility to install the EDFC controller where you want.
Wiring Duct
Automatic Brightness Adjustment
The brightness of the screen, buttons and dial adjusts automatically to the surroundings. Detecting the ambient light intensity with a sensor, EDFC5 does not need to connect to the vehicle's illumination signal.
You can set the basic light level manually (3 levels), and brightness auto-adjustment fine-tunes it for optimal visibility. The auto-adjustment function can be switched on/off.

Two Input Ports for External Signals
With just a simple external trigger, such as a touch or action, preset damper settings can be activated. This requires connecting the controller to an existing signal or separately purchased switch (2 ports available).
For example: connect to parking brake signal for instant damping force adjustment when you're drifting
Using a universal switch (not included)

Connect to parking brake signal

Starting Point for G-Actuated & Jerk-Reactive Adjustments
Minimum speed at which G-actuated and/or jerk-reactive adjustments start working can be set between 0 to 50km/h (or 0 to 50MPH), so the adjustments would not work when the vehicle is running slower than the set speed.
One-Dial Operation
For easy operation, EDFC5 features a one-dial system. Intuitive and simple, the dial is turned to scroll, and pushed to confirm. The 2 buttons above it switch the mode and display.
Triaxial Accelerometer
Since the G-sensor contained in the controller unit works along 3 axes, the controller can be installed at just about any angle.
2 View Angles
The controller's display settings offer an alternative view angle, to ensure visibility.
Sound Volume Adjustment (Levels 0 to 3)
The volume of the button/dial push sound can be set between levels 0 (mute) and 3. This also applies to the volume of system signals during auto-adjustment.
Lock Function Disables User Input
EDFC5 offers a lock function to disable the buttons and dial, for instance during driving. This prevents accidental operations.
Self-Diagnosis
The system boasts a self-diagnosis feature that can determine the performance of motor driver units, wireless communication, etc. Any problem will appear on the screen, such as a disconnected or short-circuited motor driver unit, or trouble with the wireless signal.
Superior Casing Material
The housing of the motor driver units is made of highly heat resistant material.
Comp./Rebound Separate Damping Force Adjustment
EDFC5 is able to control up to 8 motors for individual damping force adjustment, with just the one controller unit. This requires additional motor driver units.
The controller unit displays compression and rebound damping force levels simultaneously, and it can adjust each separately. All functions of EDFC5 are available, including automatic adjustment modes.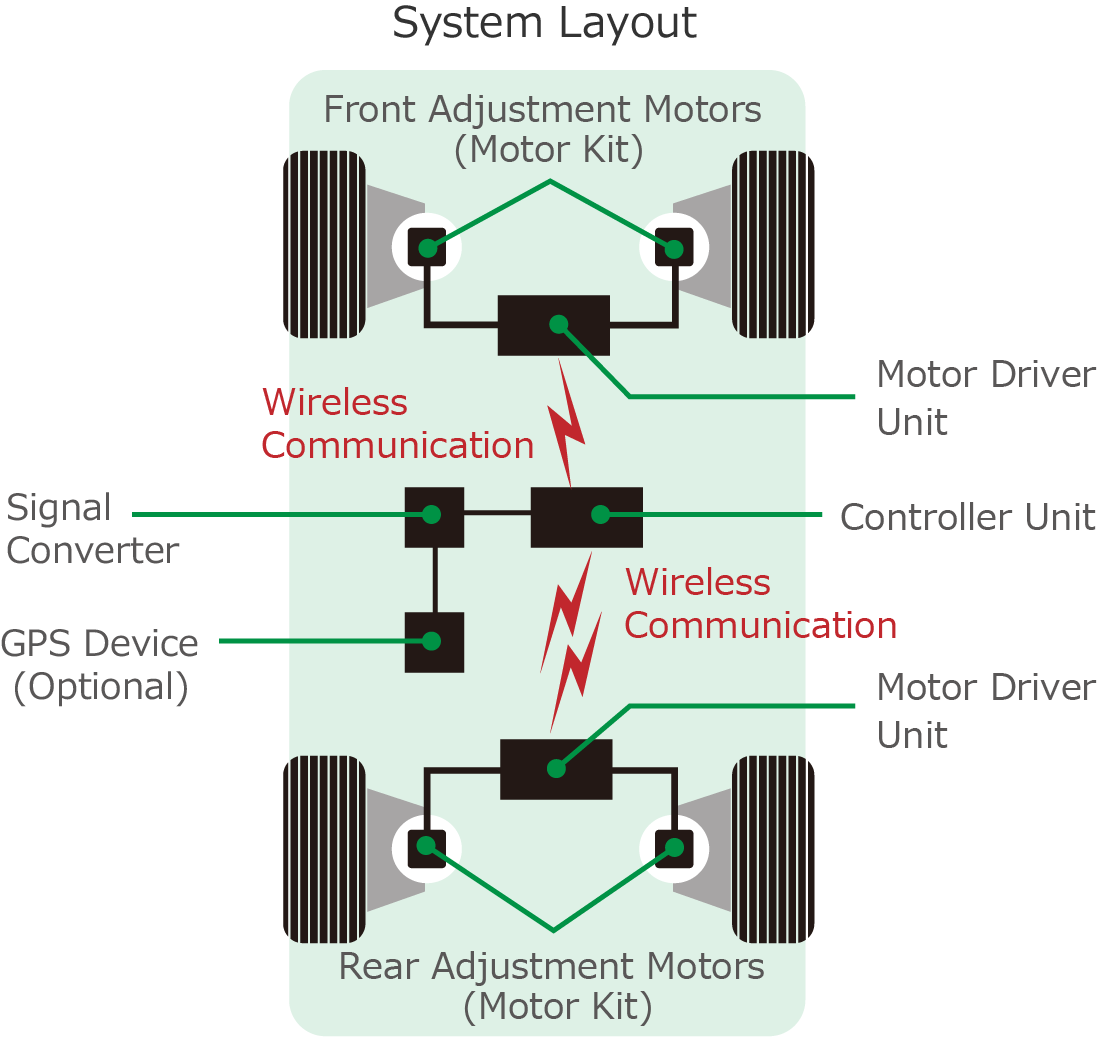 When installing EDFC5 with shock absorbers that offer compression and rebound separate adjustment, the following items are required.
EDFC5 Controller Kit x 1
Motor Kit x 2
Motor Driver Unit x 2
NOT compatible with motor driver unit for EDFC Active Pro (EDC01-P7370).
Be sure to use the one for EDFC5 (EDC01-R6654). Not doing so would lead to damages.
Power Supply Cable for Front x 1
Power Supply Cable for Rear x 1
Motor Cable x as needed
EDFC Hex Bolt x 4
GPS Kit x 1 (for Speed-Reactive Automatic Adjustment Mode and GPS data display)
Strut Kit x 1 (recommended for strut type front suspensions)
Please use in conjunction with EDFC5's instruction manual
GPS Kit (Optional)
GPS Kit is required to calculate vehicle speed when/if it cannot be obtaind from vehicle's speed pulse and/or to use all the available functions (*1).
*1: Clock, Altitude, Longitude, Latitude and Tripmeter display
G-actuated and jerk-reactive adjustments work without GPS Kit.
Speed-sensitve adjustment requires speed data either obtained from vehicle's speed pulse or calcurated by GPS data.
Use GPS kit to enable speed-sensitive adjustment, when it's impossible/difficult to take speed pulse from the vehicle.
Price List
EDFC5 requires a Controller Kit and an EDFC Motor Kit.

A GPS Kit is required if the speed pulse cannot be taken from the vehicle, or if you want all functions to work.

A Strut Kit or a Motor Extension Kit may be needed depending on the vehicle model.

Please use the Compatibility Search for details.
Required Kits
Item
Part No.
MSRP
excl. Tax
Remarks
Controller Kit

EDK04-R6655
JPY 80,000
EDFC Motor Kit

EDK05-10100
EDK05-10120
EDK05-10140
EDK05-12120
EDK05-12140
EDK05-14140
JPY 15,500
New Price (effective Jan. 1, 2024)
JPY 17,500
The matching Motor Kit depends on the vehicle model and shock absorber type. Please use the Compatibility Search.
Optional Items
Item
Part No.
MSRP
excl. Tax
Remarks
GPS Kit

EDK07-P8022
JPY 9,000
Needed if the speed pulse cannot be taken from the vehicle, or if you want all functions to work.
Strut Kit

EDK06-K4474
JPY 3,000
New Price (effective Jan. 1, 2024)
JPY 4,000

Prevents wiring from entangling with the EDFC motors when the ride height is adjusted.

Whether this kit is needed depends on the vehicle. Please consult the Compatibility Search.

Motor Extension Kit

EDK08-P8514-10
EDK08-P8514-12
EDK08-P8514-14
JPY 7,600

If there's not enough space for adjustment motors, this kit makes it possible to install them regardless.

Contains a specially developed 'flexible shaft' that allows fitting the EDFC motor a little away from the shock absorber.

Piston Rod Top Extension Kit

Made to Order
JPY 8,400

For vehicles in which extension of the piston rod tops ensures enough space around them for the EDFC motors. Produced upon your order. Can also be used in combination with the Motor Extension Kit.
Additional Items
Item
Part No.
MSRP
excl. Tax
Remarks
Motor Driver Unit

EDC01-R6654
JPY 20,500

Price is per piece.

One motor driver unit controls 2 adjustment motors.

Do NOT use with EDFC Active or EDFC Active Pro controller unit, as doing so would lead to damages.

Power Cable for Motor Driver Unit

Vehicle Front
(2 m)
EDC01-P8024
JPY 1,800

Price is per piece.

Each additional motor driver unit needs 1 power cable. Front or rear cable applies depending on the location of the motor driver unit.

Vehicle Rear
(5 m)
EDC01-P8025
EDFC Motor Cable

EDC01-P8026
JPY 1,800

Price is per piece.

For additional motors, or for replacement if a cable is damaged or too short. Over a short distance, motor driver unit and adjustment motor can be connected without an additional cable.

EDFC Hex Bolt

SAP44-P8463
JPY 300

Price is per piece.

Sold in a set of 4.

Each additional adjustment motor needs 1 EDFC Hex Bolt.

*Discontinued and only available while supplies last.

EDFC Motor

M10:
EDC01-K1466-1
M12:
EDC01-K1466-2
M14:
EDC01-K1466-3
JPY 5,500
New Price (effective Jan. 1, 2024)
JPY 6,000
Comes with a rubber cover.
Signal Converter

EDC01-Q0351
JPY 13,000

Exclusively for
EDFC Active Pro or EDFC5.

Not compatible with EDFC Active.

8mm Spanner

SST01-F11262
JPY 500
EDFC Series - Overview of Specifications and Functions